How is your library addressing the FLA 2021 theme on leading inclusively?
Inclusivity can mean anything from appropriate reading lists and engaging with your community, to ensuring your catalog, website, and mobile app are accessible to all audiences.
What does accessibility in your catalog look like?
Text Equivalents — Making images accessible to people who use screen readers and other assistive technology by using appropriate alternative text.


Site Structure — Using the appropriate headings.


Keyboard Access — Improving keyboard access for non-mouse input devices.


Magnification — Ensuring that the main workflows can be used by people with screen magnifiers.


Color Contrast — Ensuring that color use on the websites does not compromise text legibility.
BiblioCommons has invested heavily in accessibility compliance that is tailored for library-websites and uses the WCAG 2.1 Level AA standard defined by the World Wide Web Consortium (W3C) to guide development.
Would you like more info about the most accessible library catalog and website products on the market? Contact us by filling out the form.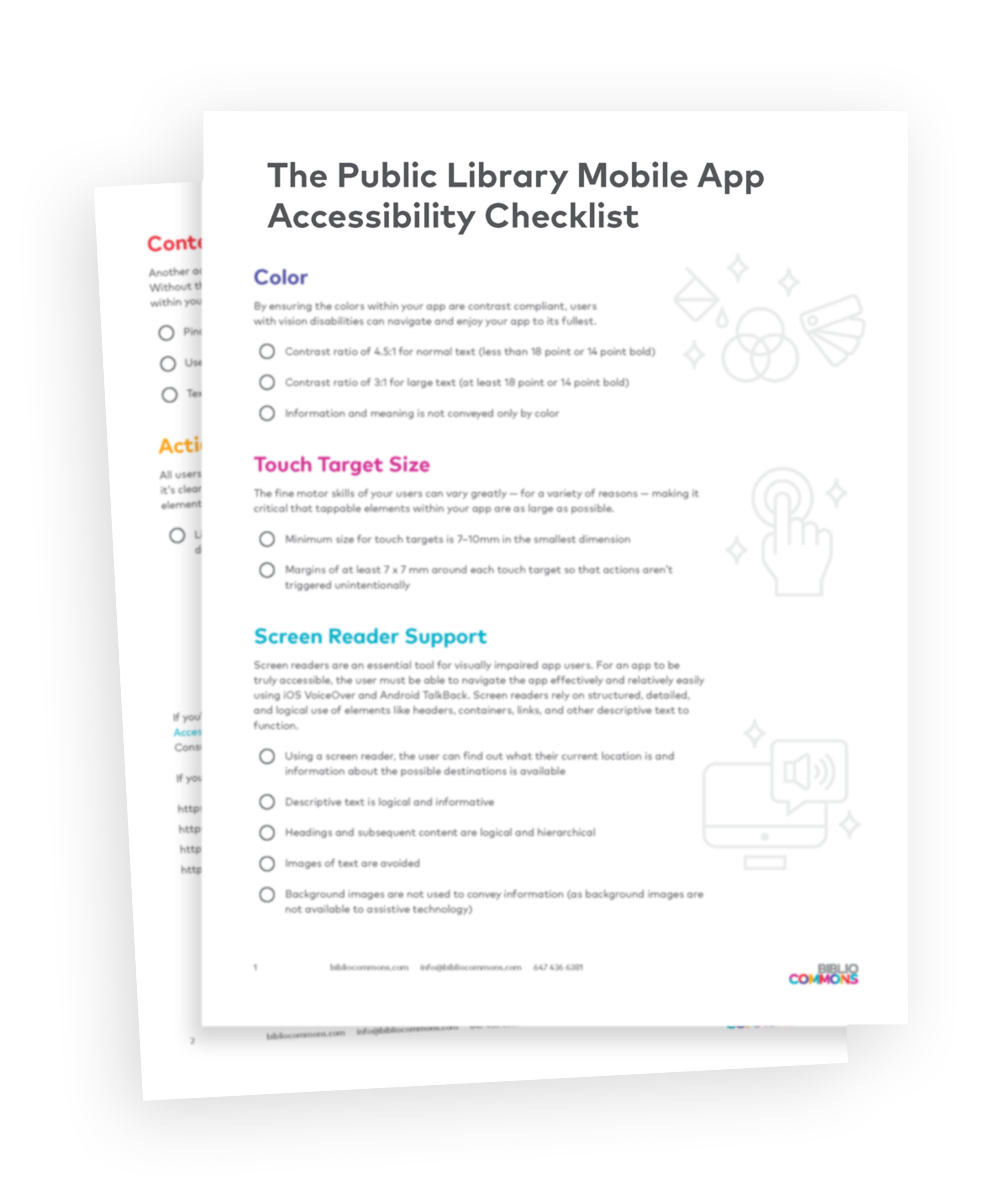 FREE DOWNLOAD
Is Your Mobile App Accessible?
Is your library considering a native mobile app? Are you wondering if the mobile app you have is serving your patrons as best as it can — particularly those with special needs?
Download The Public Library Mobile App Accessibility Checklist to find out.
Patrons Love Staff Picks! Connect with Your Community, Promote Your People
Date: Thursday, June 10, 2021
Time: 3:00 - 4:00 p.m. ET
Patrons have always loved staff picks, and now with the newly enhanced BiblioCore catalog, your staff lists are featured with big, gorgeous images on every title page to encourage discovery across your collections. Gregg, Kati and Erica will explore what makes a great list, discuss how to manage individual and group staff accounts, share tips on polishing up your staff profiles, and provide a hands-on tutorial on creating and sharing your BiblioCore lists.
Public Libraries & the Battle Against Misinformation
Date: Thursday, July 15, 2021
Time: 3:00 - 4:00 p.m. ET
As we have seen in areas ranging from public health to the presidential elections, misinformation can shape behavior that jeopardizes individual health and safety. As institutions committed to ensuring access to information, do public libraries have a responsibility to address misinformation? How can we use programming and other services to win ground in an ever-increasingly complicated field? Join us to learn about current research and practices & share your experience!